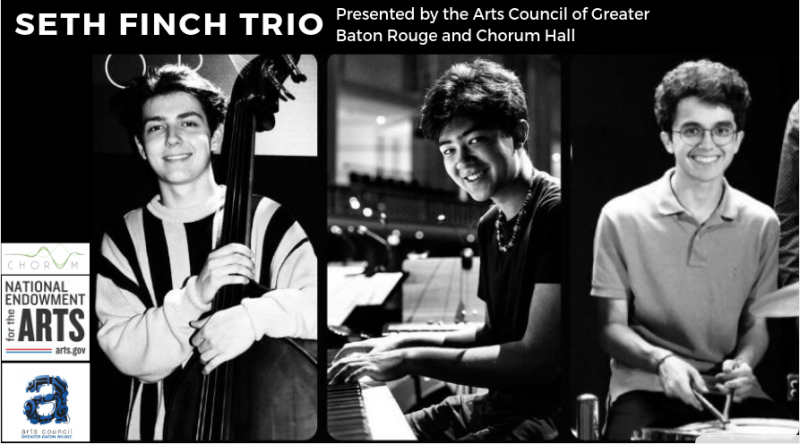 Presented by the Arts Council of Greater Baton Rouge & Chorum Hall
Pianist, Seth Finch
, is a junior at Baton Rouge Magnet High School. Seth toured Europe as part of the National Youth Orchestra (NYO) for Jazz at Carnegie Hall. Led by jazz trumpeter, Sean Jones, Seth and 21 talented young musicians from around the country had the opportunity to work with Diane Reeves, Gerald Clayton, and Wycliffe Gordon.  Seth will join NYO for a second time this summer touring with Kurt Elling in five cities in Asia.  Earlier this year, he was awarded Honorable Mention in the National Young Arts competition and performed in Miami.
Drummer, Rudi Neubrander, is a junior at Baton Rouge Magnet High School and studies drums under the direction of Troy Davis. Rudi was recently named a 2019 YoungArts Foundation Honorable Mention winner in jazz/percussion. In 2018, Rudi received a full scholarship to attend the Berklee Global Jazz Institute Workshop, which culminated in a performance at the legendary Newport Jazz Festival in Newport, Rhode Island. Rudi was also named a finalist for the 2018 Grammy Band-Jazz Session. Rudi plays drums in the Baton Rouge Magnet High School jazz band and combo, and he has also performed with the Louisiana All-State Jazz Band and the EBR All-Parish Jazz Band.
Bassist, Jacob Hubbs, is pursuing a jazz studies degree at Loyola University in New Orleans, under the direction of Dr. Gordon Towell and bassist, Ed Wise.  He has performed in various jazz and blues bands in Baton Rouge, New Orleans, and Memphis at venues and events including: the Baton Rouge Blues Fest, New Orleans Jazz Fest, International Blues Competition in Memphis, House of Blues in New Orleans, Baton Rouge Earth Day, and Live After 5. He now performs in New Orleans with the jazz/funk fusion band, NuSpeak.
Supported in part by a grant from the Louisiana Division of the Arts, Office of Cultural Development, Department of Culture, Recreation & Tourism, in cooperation with the Louisiana State Arts Council, and the National Endowment for the Arts, a federal agency.
To find out more about how National Endowment for the Arts grants impact individuals and communities, visit www.arts.gov.